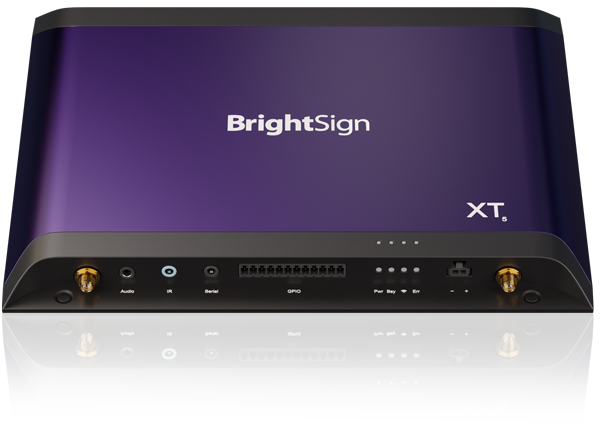 XT5
XT5 promises to be the perfect combination of power and performance.
Shipping Summer 2023.
Talk to Sales
Powered by Purple
BrightSignOS is the only purpose-built operating system for digital signage - and it's found exclusively in BrightSign players. Here's what it means to be Powered by Purple.
Secure: BrightSignOS delivers unmatched security, keeping your players, connected devices, and network safe from any potential risks.
Reliable: With unrivaled uptime across millions of players, BrightSignOS's self-healing capabilities and real-time monitoring ensure uninterrupted operation and peace of mind.
Superior: BrightSignOS is able to run any type of content, resolution, connected device, and technology integration, making it easy to create dynamic and sophisticated digital experiences.
Sustainable: Easy to maintain, power-efficient, and updateable, BrightSignOS is the long-lasting and sustainable choice for digital signage.